Shipping and Return Policy
---
We do everything possible to reduce stress on your livestock during shipping and to help ensure that everything arrives alive and healthy. Please read this page to learn more about how we pack up your orders, how we ship your livestock, shipping rates, and what shipping options are available.


Please note that we ship to all US states, except for Hawaii which does not allow importation of most of the livestock we sell. We do not ship to Guam, Puerto Rico, any other US territories, or internationally.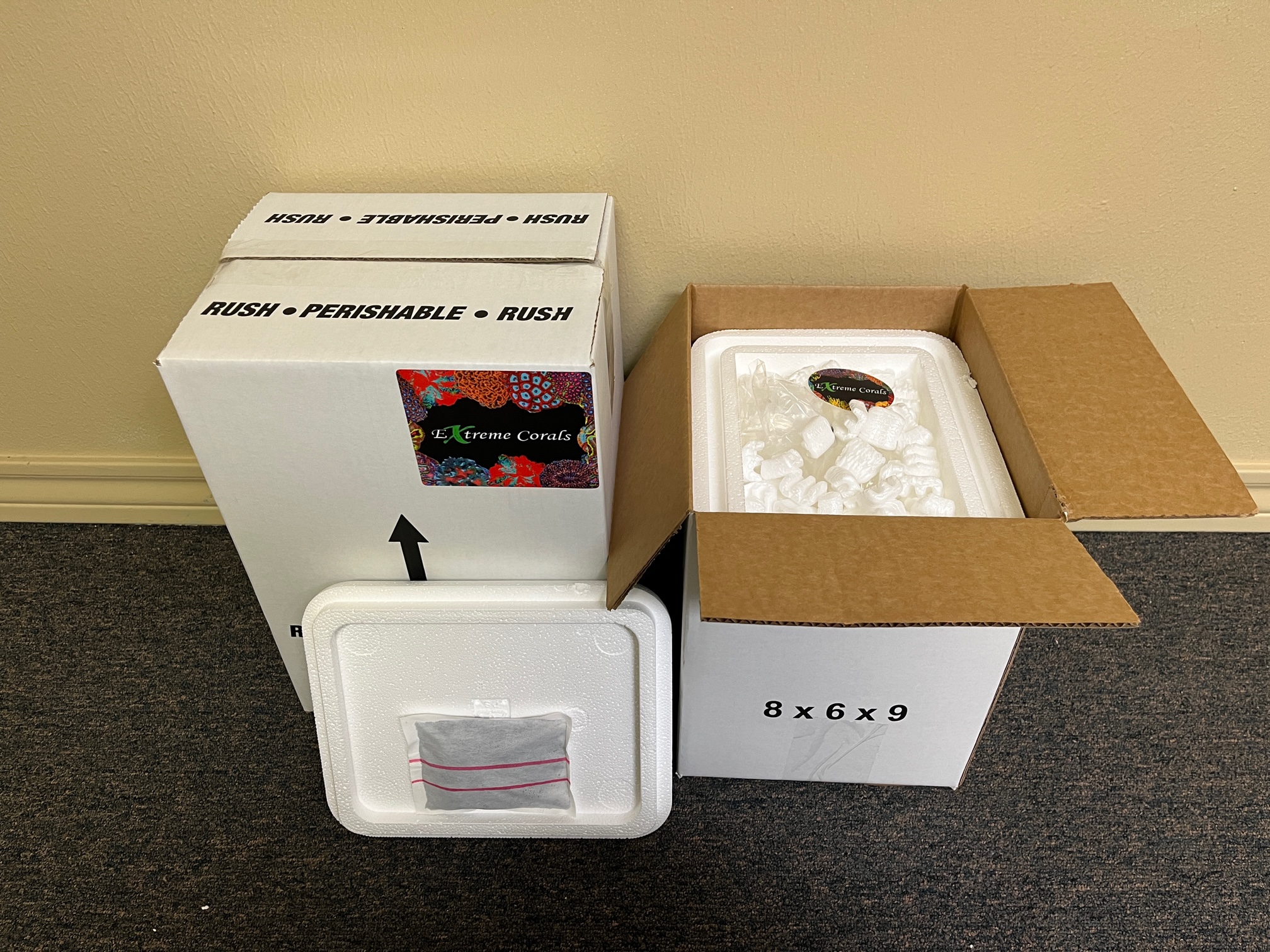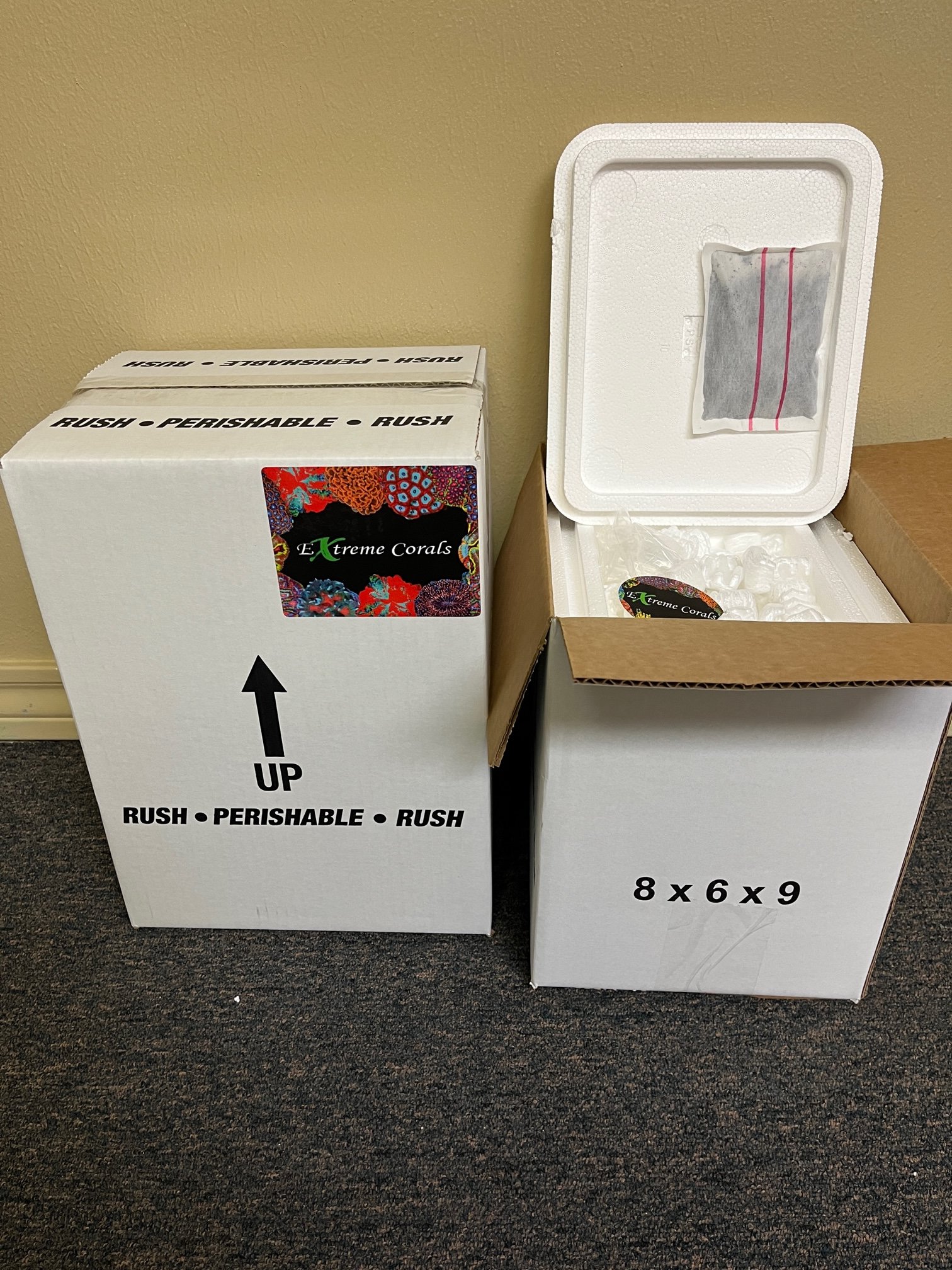 Order Preparation and Packing
Our preparation and packing procedures are the best in the business, and we use only the highest-quality shipping materials. Almost daily we receive comments from our customers that their new arrivals from Extreme Corals are packed as well as or better than any other livestock they have ever received ...
It starts with the box. Would you believe some vendors re-use old, soggy shipping boxes? We use only high-quality, appropriately sized, NEW shipping boxes for each order.


Inside the box we use a 2" thick insulated cooler to protect your livestock. Most other vendors use a cheaper 3/4" or 1" container which doesn't provide as much protection or insulation.


Every coral is double- and sometimes even tripled-bagged. We then wrap a "bag saver" around each bag for added protection, to make sure nothing pokes through the bag.


We don't skimp on water just to save ourselves a few dollars on shipping - each bag contains plenty of water. Delicate corals are "floated" in the bag to prevent damage.


Each bag is then filled the rest of the way with oxygen before being sealed via both rubber-bands and a metal clip to make sure it doesn't spring a leak while in transit.


Any necessary heat or cold packs are then attached to the underside of the container lid, to help maintain the correct temperature for your livestock during transit.


Finally, the lid is secured on top of the styrofoam container and the box is closed using LOTS of tape to make absolutely sure that nothing gets in or out during shipping.


Obviously there are expenses involved in doing all of this, and therefore there is a $10 Box Charge added to all shipped orders. Rather than raise the price of our livestock to cover these expenses, we simply add this $10 box charge to your order so you know what you are paying for. If your order consists of multiple boxes, don't worry - you will only be charged one $10 box charge per order.




Shipping Rates and Options

We ship via UPS Priority Overnight to get your livestock to you as quickly as possible. This costs us more than standard overnight service, but delivery of your shipment is guaranteed by 10:30AM-12PM depending on the area that you live in.

In most cases this means you'll get your shipment 25-30% quicker than if sent via regular overnight service (which could be delivered at 6pm), which really reduces the stress on your livestock.

In our experience, UPS' handling of livestock packages is far superior to any other carrier, and FedEx is no longer available due to too many damaged shipments and losses.

Priority Overnight shipping is FREE on all orders over $150!

As long as your order totals at least $150 after any store credits, coupons or discounts and before any miscellaneous charges such as the box charge, tax, etc. you won't pay a dime for shipping.

Priority Overnight shipping is extremely expensive, so we highly recommend that you meet the minimum order of $150 to get the free shipping. If your order does not meet the minimum of $150, you'll be charged a flat rate as shown in the table below. Sorry, we don't use any other less expensive types of shipping.

Since we already use the absolute fastest shipping that is available from any carrier, the only other option is Saturday delivery for which there is an extra charge of $15.00. This extra fee is what we are charged, and we just pass it on to you - we do not make a penny off of this extra charge, or any shipping fees. We highly DO NOT recommend Saturday delivery as it raises the risk of potential long delays


| | | | | |
| --- | --- | --- | --- | --- |
| Total Shipping Cost | | Order Under $150 | | Order Over $150 |
| Tuesday-Friday Delivery | | $29.99 + $10 Box Charge | | $10 Box Charge |
| Saturday Delivery | | $44.49 + $10 Box Charge | | $15.00 + $10 Box Charge |


Important! You MUST let us know if you are outside UPS' normal delivery areas. Failure to do so may substantially delay the delivery of your shipment, and void our "Arrive Alive" guarantee.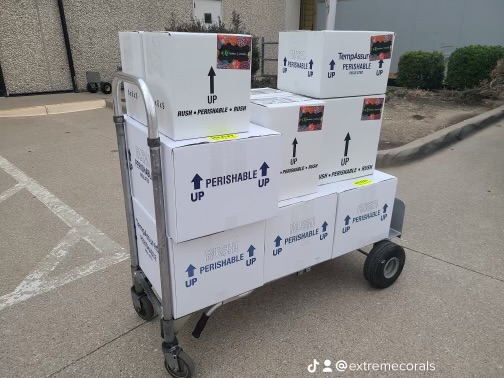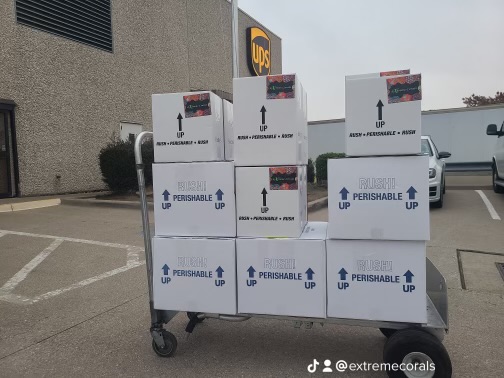 We Ship 5 Days a Week

Shipments are made 5 times per week, Monday through Friday. The table below shows both the shipping day and arrival day based on when your livestock order is placed.


| | | | | |
| --- | --- | --- | --- | --- |
| Purchase Day | | Ship Day | | Arrival Day |
| Sunday | | Monday | | Tuesday |
| Monday | | Tuesday | | Wednesday |
| Tuesday | | Wednesday | | Thursday |
| Wednesday | | Thursday | | Friday |
| Thursday | | Friday | | Saturday * |
| Friday | | Monday | | Tuesday |
| Saturday | | Monday | | Tuesday |
* $15.00 extra fee for Saturday delivery. Otherwise your order will ship the following Monday and arrive Tuesday.


Once your order has shipped you'll receive another email confirmation from UPS with information about the delivery of your shipment, and a tracking number so you can track your shipment.




"Hold for Pickup" at UPS

We highly recommend that you pickup your shipment at your local UPS Customer Center, rather than have it delivered to your home or business. They will keep the package inside where it isn't too hot or too cold. This greatly reduces stress on your livestock from temperature variations and rough handling.

This is not required as we realize it may not be practical or possible. This is just our suggestion for the benefit of you and your livestock. Less stress means healthier animals and less potential problems.

To find the nearest pickup location please call UPS at (800)742-5877 or visit the UPS Locator page.

If picking up at UPS please note that you may only have your package(s) held for pickup at official UPS Customer Centers (not UPS Stores or any other "authorized shipping outlets".)

If you want your package(s) held for pickup, just use the comments box during the checkout process to let us know and provide the address of your preferred pickup facility.




Home Delivery Suggestions

If picking up your shipment at UPS is not an option, we have a few suggestions for you to help reduce stress on your livestock and help ensure that everything arrives alive and healthy ...

The best thing you can do is make sure you or someone else is there to receive your shipment and begin acclimating your new livestock as soon as your shipment arrives. Shipments will generally be delivered by 10:30 in the morning. If you or someone else can be there as opposed to your new livestock sitting outside until 5 or 6pm when you get home from work, they'll be that much happier and healthier.

Secondly, please keep temperature and weather in mind when placing your orders - especially if you're not able to pick up your shipment at UPS - and schedule your orders accordingly.

Regardless of how well we pack your livestock, it is extremely stressful to them if they have to sit outside your front door for 5 or 6 hours in 30 or 100 degree temperatures.

Likewise, if it's supposed to snow on the day your order is scheduled to arrive you should seriously consider scheduling your order to arrive on another day. Shipments are often delayed during times of extreme weather, and UPS will NOT reimburse us or you for weather delays. You will receive a UPS tracking number by email as soon as label is generated. You can track the package the whole way through the process of shipping, if for any reason your package does not arrive by 10:30 or is delayed for any reason you MUST contact us ASAP so we can get in contact with UPS Rep directly, failure to do this will void any guarantee.



Adding to an Order

Please note that you can add to your order up until the day it ships. If you want to add to an existing order, simply place a new order and in the comments box on the order form just let us know you are adding to a prior order. This may save on your shipping charges.


Holding an Order

We'll hold your order for up to 5 business days at no additional charge. When you place your order, just use the Comments box to indicate when you want your order shipped or delivered. If you need us to hold your order for a longer period of time, your order may be subject to additional charges and WE WILL NOT BE RESPONSIBLE FOR THE ITEM PAST 5 DAYS, we will do everything in our power to make sure the specimen remains in good condition but cannot guarantee its health holding it at our risk. We would strongly recommend that you give us a call to discuss your unique request if you are wanting us to hold order more than 5 days.


Cancelling an Order

If you want to cancel an order that has not shipped, you can do so but there will be a 30% restocking fee. We know that sounds like a lot, but it is A LOT of work for us to cancel your order, re-photo the corals, put them back on our website, etc. This is an extremely labor-intensive process for us. Once your order has been shipped the sale is final.




If you have any questions, please don't hesitate to email us at [email protected] or give us a call 972-757-9048. We'll be happy to answer any questions you may have.