Extreme Corals News and Updates
---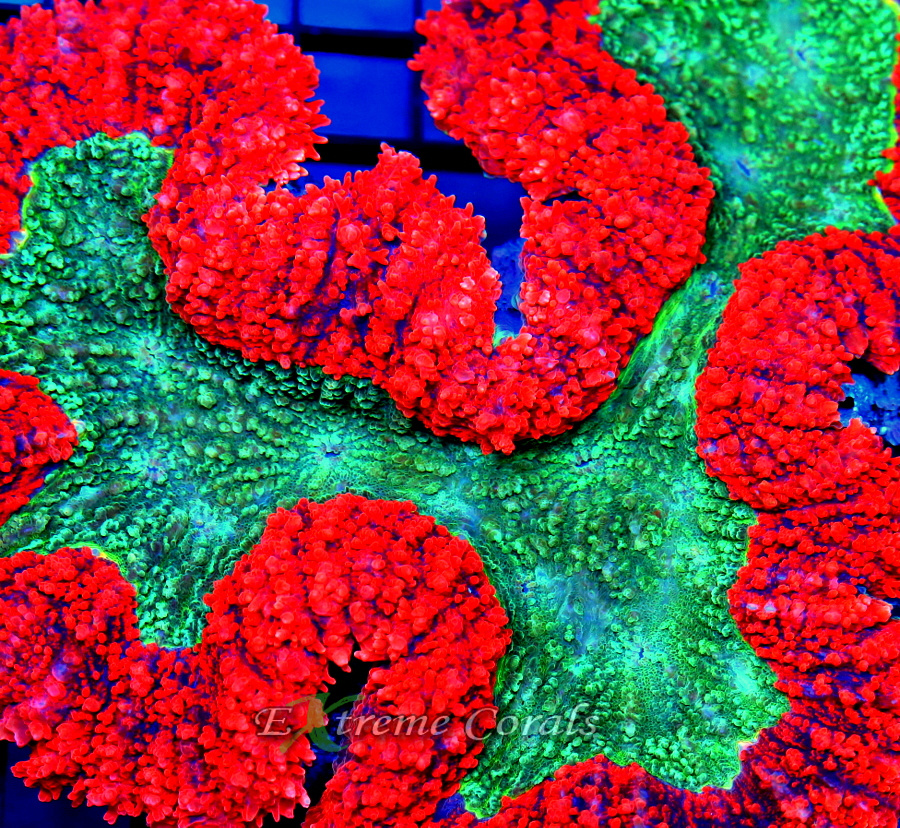 Lobophyllia and Symphyllia corals are captivating additions to any reef tank, each bringing their own unique charm and characteristics. Find the correct ways to care for each within this article
Understand the difference in care between two popular Corals, Lobophyllia and Symphyllia.
by scott Shiles • August 17, 2023
---
Reef aquariums are captivating ecosystems that allow aquarists to recreate the mesmerizing beauty of the underwater world within the confines of their homes. Among the diverse range of marine life that can be housed in a reef tank, corals take center stage. Lobophyllia and Symphyllia corals are two popular choices for reef enthusiasts, each boasting unique characteristics and care requirements. In this article, we will explore the differences between Lobophyllia and Symphyllia corals and provide essential care tips to ensure their well-being in your reef tank.
Lobophyllia Corals:
Lobophyllia corals, commonly referred to as "Lobo" corals, are a genus of large polyp stony (LPS) corals that exhibit intricate and often vibrant coloration. These corals have a distinct appearance with large, fleshy polyps that extend during feeding and display a wide array of colors ranging from intense greens and blues to rich reds and oranges. Lobophyllia corals have a tendency to form deep, rounded or brain-like structures, creating a captivating visual effect in the aquarium.
Symphyllia Corals:
Symphyllia corals, also known as "Lobed Brain" or "Closed Brain" corals, are another fascinating genus of LPS corals. These corals showcase a unique texture with convoluted, lobed polyps that can partially or fully encase the coral's skeleton. Symphyllia corals typically exhibit more subdued coloration compared to Lobophyllia, with shades of brown, green, and occasionally, hints of purple. Despite their less intense color palette, Symphyllia corals make up for it with their intricate patterns and captivating growth forms.
Differences between Lobophyllia and Symphyllia Corals:
Polyp Structure and Appearance:

Lobophyllia: Large, fleshy polyps with vibrant and varied coloration. Often have brain-like, rounded structures.

Symphyllia: Convolute, lobed polyps that may partially or fully encase the coral's skeleton, creating a unique textured appearance.
Coloration

Lobophyllia: Exhibits intense and diverse colors, ranging from bright greens and blues to rich reds and oranges.

Symphyllia: Typically displays more subdued colors, such as brown, green, and occasional hints of purple.
Growth Form

Lobophyllia: Forms deep, rounded, and brain-like structures.

Symphyllia: Develops intricate patterns and lobed growth forms.
Caring for Lobophyllia and Symphyllia Corals in Your Reef Tank:
Lighting:

Moderate to high lighting is suitable for both Lobophyllia and Symphyllia corals. Use LED or T5 fluorescent lights to provide the necessary spectrum and intensity.
Water Flow:

Place corals in areas with moderate water flow to prevent detritus buildup on their surfaces.
Water Parameters:

Maintain stable water parameters: temperature (75-80°F or 24-27°C), salinity (1.025), pH (8.1-8.4), and alkalinity (8-12 dKH).
Feeding:

Both corals benefit from regular feeding. Offer meaty foods like mysis shrimp, brine shrimp, and other coral-specific blends.
Placement:

Place corals on the substrate or on elevated rock structures to prevent excessive shading and promote growth.
Aggression:

Maintain ample space between corals to prevent territorial aggression, especially in the case of Symphyllia corals.
Monitoring:

Regularly monitor water parameters and coral health. Look for signs of stress, tissue recession, or any changes in appearance.
Lobophyllia and Symphyllia corals are captivating additions to any reef tank, each bringing their own unique charm and characteristics. By understanding the differences between these two and providing proper care, you can create a thriving and visually stunning underwater ecosystem in your reef aquarium. Remember to maintain stable water conditions, appropriate lighting, and regular feeding to ensure the well-being and growth of these remarkable LPS corals.
---
overall rating:
my rating:
log in to rate
---
Please log in to leave a comment.